Cards are, of course, the building blocks of your scope of work. Each card represents an element of a project. Each task needs its own card in order to adequately express the amount of work the project will take. There are two ways to add cards to your project: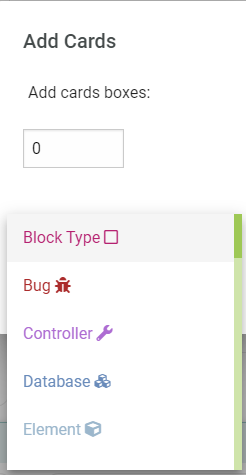 1 – At the top of the page, above the list of existing cards in the center, click on the 'Add Card' button, which includes a large + sign on the button. A lightbox will pop up (see image on right) and ask how many cards you want to add, and what type. Complete those two steps, and the cards will be added, appearing at the bottom of the scope of work. 2 – On the far-right side of any existing card, click on the vertical ellipsis (three dots).

In the short drop-down that appears, you can select either "Add Child" or "Duplicate". These options do exactly what they sound like.
Add Child:
Adds a new blank card which is subordinate to the parent you selected this option from.
Duplicate:
Adds a carbon-copy card with all the same details ( descriptions, notes, tags, files, tasks, people, labels and hours and expenses) at the same level. Can be especially handy if you have similar tasks, or if the cards would require minimal reworking.