Use the commenting feature to ease the communication with your team and the client to build a proper scope of work document for your project in Brainleaf.
The commenting feature allows you to add comments on each card of your scope by simply clicking the balloon icon on the top right of the card. Comments are really useful to ease the communication not only between you and your team but as well with your client.
Sometime you would write a task in your scope editor and you leave it to one of your team members to enter the hours needed to complete that task. Imagine your collaborator has a question about the task, he can simply add a comment to that card which you can reply to. Everybody assigned to that project will be notified of any new comments or replies, including the users that are not registered in the system, but that are allowed to comment (shareable projects & approval view)
Commenting Feature
To use the commenting feature, in your scope editor simply click the balloon icon on the top right of the card. This will open the comments sidebar on the left of the screen, below the Template and Navigation items.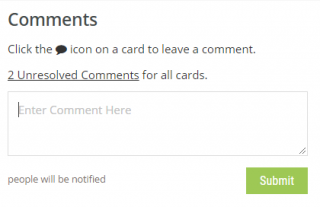 After clicking the comment icon on a card, start typing in the text area in the comment sidebar and hit submit.
You can also access all comments from the sidebar to have an overview of which card has been commented. When not selecting any card, the default view of the commenting feature sidebar is listing All comments on All cards, including the 'replies'.
Comments in the sidebar are either Unresolved or Resolved. The Unresolved list will have all the comments pending that are not marked as resolved. Note that only the author of the comment can mark it as resolved, edited or deleted. Another user will only be able to reply to the comment.
Once a comment is set to Resolved by its author, it goes to the Resolved list where it can be either deleted or set to Unresolved by any users.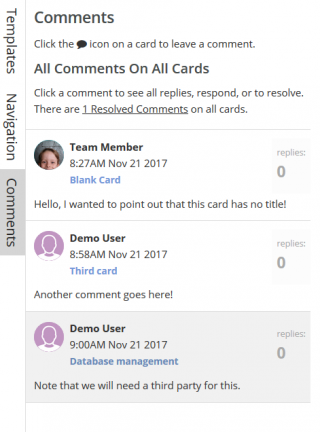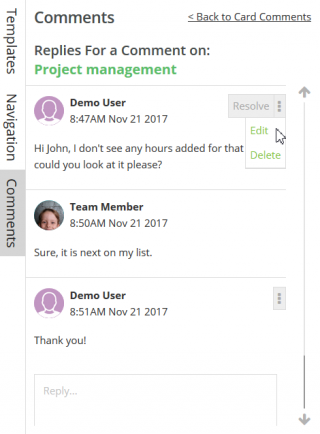 Approval View & Shareable project
As a client, I am not able to edit a scope of work that has been sent to me. However, with the commenting feature I can leave a comment on a specific card if something is unclear or I need to add a precision. The same way you would do in your scope editor, the client can click the balloon icon and start adding comments for any cards.
No need to approve or decline the scope for the comments to be displayed on the editor side, it will refresh in a matter of seconds. The client can simply close the tab where is approval scope is displaying. Again, everybody on the project will be notified by email of a newly added comment.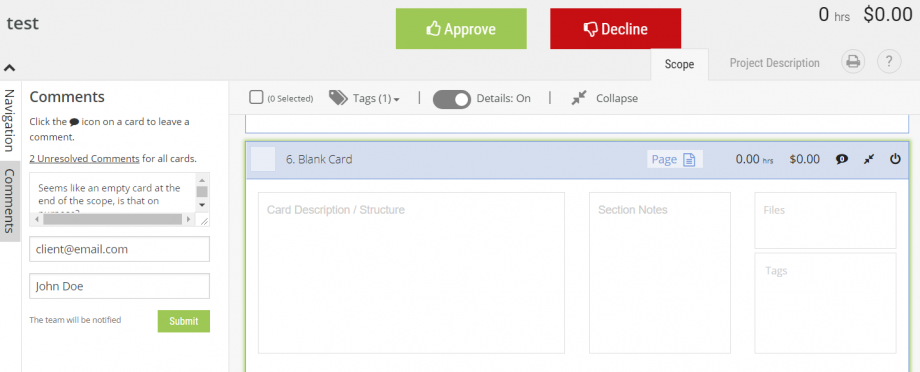 The Shareable link to your scope, that you might send to another collaborator out of your Brainleaf organization, will have the same possibility of adding comments to any cards.
Don't miss the Milestone feature: Milestones: Benefits of Contract Milestone Management